Solve your process problems and prepare your business for growth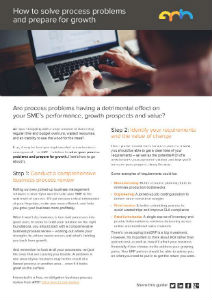 SME looking to grow? You may have realised that process problems are having a detrimental effect on the performance and value of your business.
You may also have heard that a new business management, or ERP, solution could be the answer.
But where do you begin?
Read our free guide to learn:
Whether it's time for you to look at ERP
What it can and can't do for your business
How to ensure the project delivers ROI
Simply fill out the form to download your copy.