FREE guide: The top field service management software trends turning service into a profit centre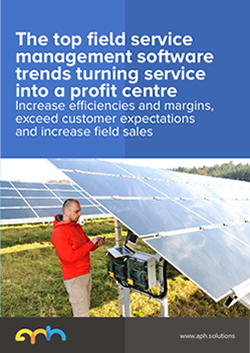 Increase efficiencies and margins, exceed customer expectations and increase field sales
Benefit from our specialist sector experience in ERP implementations with this MUST READ guide.
Service management leaders' priorities and field technicians' wish lists
At-a-glance guide to must-have tech features
Reduce invoice to service time from weeks down to days
How companies have increased margins by 10%
Why 38% of leaders cite interdepartmental communication issues – and what to do about

About the author:
Marc Wilkinson, Business Development Manager at APH Solutions has an extensive background in field services management and software. He started his career as a field service engineer, progressing into training and project management before moving into sales and business development at leading software companies.
"Marc was always very responsive, professional and I found him to have a great deal of integrity. Where there were gaps between the software and our particular requirements, Marc often suggested innovative solutions."
Graham Neve - General Manager (Service), Triton Plc